We provide Before School and After School Care for School aged children.
Before School care commences at 6:30am. The children will be provided with breakfast before 7:30am and we depart the centre at 8am on our bus to go to school.
After School Care commences at 2:45pm when school finishes with pick-ups from Gordonvale State Primary and St. Michael's primary. We return to the centre for some afternoon tea and school aged based activities.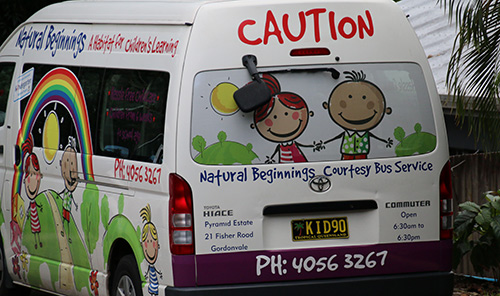 We also provide Vacation care with an approved program . Some activities include:[ticklist]
Sugarworld waterpark
Seeing a movie
Visiting historical villages
trips to the Cairns Esplanade
enjoying time at the Lagoon
Muddies Waterpark
The Tree-House and the Pirate Ship[/ticklist]
Morning Tea, Lunch and Afternoon Tea are also provided for Vacation care students. Vacation Care children leave the centre by 9:30am to embark on their excursions and return to the centre at 4pm. Please see Vacation Care Program  (Vacation Care Program sample).
All children also get to enjoy our newly refurbished Water Park area, with a slide, drop buckets and jet-ski.
We provide Morning Tea, Lunch and Afternoon Tea to all children with a nutritional menu following the food safety program.
On enrolment all children are supplied with a sun smart hat and a shirt for each day they attend.